Generally speaking links to your site are good. Getting links however is not easy. One way of getting more links to your site is to submit it to some of the many web directories that are around. Now some professionals feel that links from directories are of little value. However, my own experiences are that there can be some value, particularly if you've only got a few links to your site anyway. I have found though that I have submitted some sites to loads of directories and got few backlinks that show up when I check. For information about finding who links to you go here
I have found the following directories do show up in my backlinkprofile, so they may be worth a visit.
wondex.com – PR1 – General
askpeter.info – PR3 – General
viva-almeria.com – PR5 – Spain Travel (recip)
flesko.co.uk – PR4 – General (recip)
splut.co.uk – PR5 – General
passion-4.net – PR4 – General
donsautopages.co.nz – PR4 – Motoring
londinium.com – PR5 – London
crazyleafdesign.com – PR4 – General
urlshack.com – PR3 – General
slackalice.com – PR4 – General
diroo.org – PR4 – General
caven.org.uk – PR3 – General (recip)
abigdir.com – PR3 – General
littlewebdirectory.com – PR3 – General
bizseo.com – PR5 – General (recip)
londovor.com – PR3 – General
tech4on.com – PR2
atlantisweb.net – PR0
lifespot.org – PR0
…or just search Google for "Free directories" or "motoring directories" and find some that look good,
So usually the page where you can add your link details will look something like this: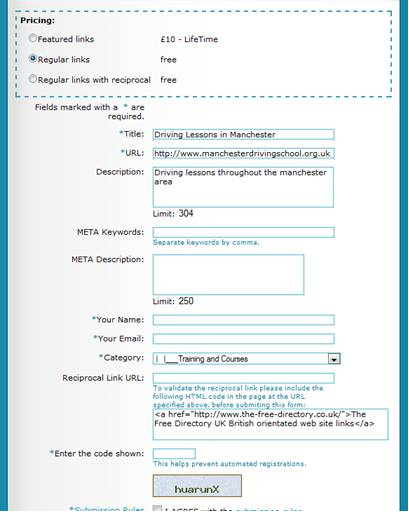 Here we've made sure that the "free" regular links are selected and have entered the details for www.mrasom.com High Wycombe
You only need to enter the details that are starred* and don't need a reciprocal link.